Insulation can be thermal or acoustic but we will be making more emphasis on thermal in this write-up.
Thermal insulation covers heating and cooling, so this is applicable to most countries including Nigeria.
For optimal energy efficiency, your home should be properly insulated from the roof down to its foundation. The illustration below shows all the areas of Energy losses in a building;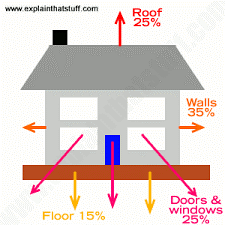 Roof – 25%
Walls – 35%
Doors & Windows – 25%
Floors – 15%
Insulation makes your home comfortable, saves energy thereby saving money. 
With the purported 50% increase of electricity tariff in Nigeria, you can make a savings of 40-50% on your cost of cooling or Air conditioners when your building is insulated.
Also, Insulation can help deaden sound or noise, it is also fire-rated (as specified in building code) so you do not have to be scared of fire outbreaks. 
Vitapur offers Spray foam applications for Roofs, Walls, and floors; This is mobile and applied on site.
We also offer Insulation boards which come in various facers depending on their application for Roof, Wall, and Floor insulation. These facers are Kraft paper (Brown), Ficotec (White), Bitumenised paper (Black), and Embossed Aluminum foil (Silver). Sometimes these boards are used naked (without facer).
Structural insulated panels are dry walls that can be used for wall insulation, we have the largest production plant in West Africa. Likewise, we produce Pre-insulated roofing panels which are used for the roofing of buildings.
Kindly visit www.vitapurinsulation.com for more information or engage us on our social media platforms.